Fields of Research
The group focuses on solar cells that are based on chalcogenide thin films. Light absorbing layers of the type Cu(In,Ga)(Se,S)2, Cu2ZnSn(Se,S)4 or other chalcogenides are combined in a thin film heterostructure similar as shown in Fig. 1. Research topics are:
Improving the efficiency of state-of-the-art solar cells, mainly Cu(In,Ga)(Se,S)2
Understanding current efficiency limitations
Investigating process schemes for high productivity and low cost
Testing in-line and off-line process monitoring and quality assessment
Develop new heterostructure components, in particular absorber layers
Modelling of electronic transport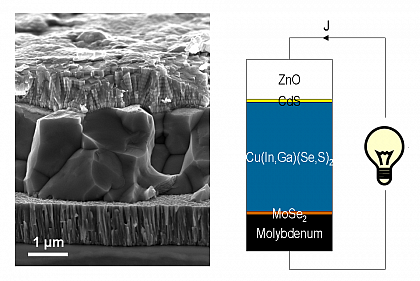 Fig. 1 Scanning electron micrograph of a Mo/Cu(In,Ga)Se2/CdS/ZnO solar cell on glass in cross-section view. Thin layers of MoSe2 (~10 nm) and CdS (~50 nm) are not visible in the micrograph. The working principle of heterostructure solar cells is simple: Due to the asymmetric contacts (CdS/ZnO on one side and Mo on the other side) electrons and holes being the charge carriers are flowing to opposite directions. They form the photo current which can drive an electrical load.
Thin film preparation in our group uses physical vapour deposition under vacuum – a technique that is also employed in commercial production. Different elemental vapours are directed to the heated substrate (Fig. 2). Insitu monitoring techniques such as laser light scattering give a real-time signal of the growing thin-film. Different substrate types can be used. In the system of Fig. 2 only the absorber layers such as Cu(In,Ga)Se2 are prepared. Other deposition methods for the cell in Fig. 1 are sputtering (Mo, ZnO) and chemical bath deposition (CdS) which are performed in different set-ups. The thin MoSe2 layer is a reaction product of the polycrystalline molybdenum film with the selenium atmosphere.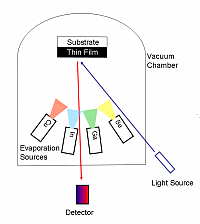 Fig. 2 Sketch of a physical vapour deposition system for the simultaneous evaporation of different elements. Typically non-crystalline substrates are used which lead to polycrystalline film growth. Epitaxial growth requires crystalline substrates and is only occasionally accomplished for research purposes.
Ein weiterer Forschungsaspekt sind quaternäre Halbleiter auf Basis von Kupfer, Zink, Zinn und Schwefel bzw. Selen (sogenannte Kesterite). Sie können eine interessante Alternative zu konventionellen Absorbern für Dünnschichtsolarzellen sein, da deren Ausgangsmaterialien ungiftig und in großer Menge auf der Erde vorhanden sind. In der Fachgruppe werden Absorber aus Kesteriten entwickelt und die Eigenschaften daraus hergestellter Solarzellen untersucht (Abb. 3). Dafür steht ebenfalls eine PVD-Anlage zur Verfügung, in der die dünnen Schichten mittels thermischem Koverdampfen abgeschieden werden. Diese ist mit einem Röntgendiffraktometer kombiniert, das eine in-situ Untersuchung der Schichtbildungsprozesse ermöglicht.
Im Fokus stehen insbesondere:
die Untersuchung der Prozesse der Schichtbildung mittels in-situ und ex-situ Methoden
die Entwicklung neuer Präparationspfade mit verbesserten Schichteigenschaften
die Entwicklung von Verfahren zur in-situ Prozesskontrolle
die Untersuchung der Verlustmechanismen von Kesterit-Solarzellen

Abb. 3 zeigt links die rasterelektronenmikroskopische Querschnittsaufnahme einer Absorberschicht aus Cu2ZnSnSe4 (CZTS) und rechts den Aufbau einer CZTS-Solarzelle.
Die Forschungsschwerpunkte werden in verschiedenen Projekten bearbeitet, u. a.:
EFFCIS II: "Hocheffiziente Cu(In,Ga)(S,Se)2-Dünnschichtsolarzellen und -module durch Verbesserung der Funktionsschichten und Grenzflächen" (BMWi, 2020 – 2023)
"Alkali-induced surface defects and interface passivation in chalcogenide solar cells" (DFG) 2019

–

2022
OPTICIGS II: "Optimierte Qualitätsanalyse von CIGS-Modulen mittels bildgebender Messtechnik und Spektroskopie" (BMWi, 2018 – 2022)

MasterPV: "Innovative Fertigung von kosteneffizienten semitransparenten PV-Modulen für die Gebäudeintegration" (BMWi, 2018 – 2020)
EFFCIS: "Effizienzoptimierung von CIS-basierten Dünnschichtsolarzellen und -modulen" (BMWi, 2016 – 2020)
StrukturSolar: "Innovative Strukturierungskonzepte für Solarzellen der nächsten Generation" (BMBF, 2015 – 2020) www.struktursolar.de
---
---