Child Care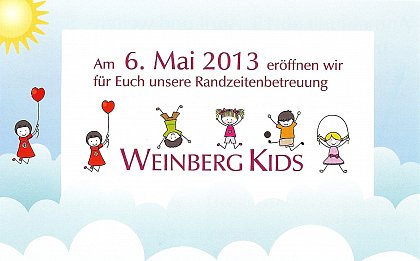 In addition to the child care services offered at the municipal child care facilities of the city of Halle (www.kitas-halle.de ), Studentenwerk Halle in cooperation with the Martin Luther University Halle-Wittenberg offers child care during the late afternoon and early evening hours since May 6, 2013 for children aged from at least two months to the age of starting school.
The child care facility is housed directly on the Weinberg campus at Kurt-Mothes-Straße 8 , Monday to Friday from 13:30 until 20:30. Upon request, child care is also possible on Saturdays. More detailed information can be obtained from the webpage www.weinbergkids.de (English version will follow) or from the English translation of the FAQ linked at the bottom of this page.
For members of the SFB 762, costs can be covered by the SFB. Please contact Michael Strauch (michael.strauch@physik.uni-halle.de, tel. +49 (0) 345/55 25449) for details.
Requests for child care should be communicated at least three working days before the desired start (two weeks for child care on Saturdays). More short-dated registration is possible if capacities are available. As an exception, registration directly at the facility is also possible. However, in this case the SFB might not be able to cover the costs.
English translation of FAQ
FAQ_Weinbergkids_englisch.pdf (106.3 KB) vom 16.06.2016
---
---