---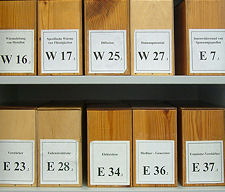 ---
---
Contact
Martin-Luther-Universität
Institut für Physik
Grundpraktikum
phone: +49 345 55-25551
fax: +49 345 55-27300
praktikum@physik.uni-halle.de
3. Etage
Von-Danckelmann-Platz 3
06120 Halle
---
---
Login for editors
---
Basic physics lab
Interested in studying physics? Look here:
Welcome to the basic lab at the institute of physics of the MLU
Here, about 400 students per semester in biochemistry, chemistry, geosciences, medicine, pharmacy, polymer material science, dentistry and, of course, physics and medical physics complete a practical course that includes between 7 and 33 experiments, depending on the course of study. More than 50 different experiments are usually available in duplicate and can be performed at 76 tables by two students each.
The basic physics practical course is also open to school groups. Please ask us in good time for possible dates. Find out about the available experiments here and discuss the desired experiments with us.
On the website you will find all the important information about dates, experiments and tutors in the various practical courses. Details on the practical course procedure, protocol management, error calculation, tests and exams can be found in the printed practical course booklets that every participant receives when registering for the practical course. Links to the PDF versions of these booklets, which also contain the detailed instructions for the experiments, can be found on the Experiments page.
---
Lab manager
Dr. Mathias Stölzer
Von-Danckelmann-Platz 3, Raum 3.47
Telefon: 0345 55-25550
mathias.stoelzer@physik.uni-halle.de
---
---