---
---
---
Contact
Michael Strauch
Homepage-Verwaltung/Homepage Administration
phone: +49 (0) 345/55 25449
fax: +49 (0) 345/55 27519
michael.strauch@physik.uni-...
room 117
Von-Seckendorff-Platz 1
06120 Halle (Saale)
GERMANY
---
---
Login for editors
---
Quantum Theory of the Solid State
17/12/2015: Hugo Junkers Award for Nicki Hinsche
Physicist Dr. Nicki Hinsche has been awarded the first prize in the category Basic Sciences of the Hugo Junkers Innovation Award Saxony-Anhalt 2015 for the project "Nanostructured thermoelectric layered systems". "I traveled all the way from Copenhagen for the award", says Dr. Nicki Hinsche, who now works at the Technical University of Denmark. For his project he received the 10,000 euros first prize for the most innovative project in the Basic Sciences category. The researchers, for example, make use of waste heat, which is generated by technical devices but also by living organisms and released into the environment, in order to convert it into electrical energy.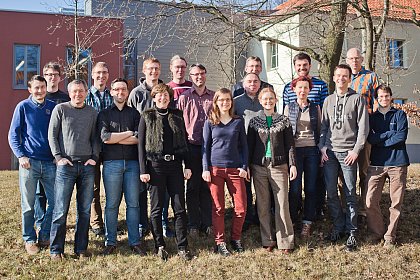 Group Photo (February 26, 2015, photo: Martin Hölzer)
---
---